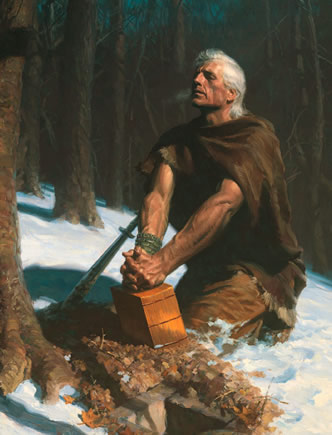 31

And awake, and arise from the dust, O Jerusalem; yea, and put on thy beautiful garments, O daughter of Zion; and

strengthen thy stakes and enlarge thy borders forever, that thou mayest no more be confounded, that the covenants of the Eternal Father which he hath made unto thee, O house of Israel, may be fulfilled.
One of the great functions of The Book of Mormon is to awaken us and to set us enthusiastically on the course of righteousness. Doing this we become different creatures. Have you ever noticed the STPs in your Ward?
STP stands for Same Ten People. These are the ones who show up early and stay late. They are always there to serve and do whatever is asked of them. They do their duty. Odds are, they have read The Book of Mormon and have sought the confirmation of it's truth that Moroni admonishes in this chapter. They are strengthening the stakes of Zion and are enlarging her borders. You will also notice that they are not confounded in their pursuit of Zion. Unlike those at the Tower of Babel, whose pursuit was selfish, these have faith, hope and charity. They have experienced The Book of Mormon. They didn't just read it, they applied the Atoning Blood of Christ and while far from perfect have come to know the One in whom they put their trust. This most recent journey through the very best of all books has left me with that desire. Maybe, you and I can make it the Same Thirteen People, or Twenty People or Thirty, or Thousand. Maybe Zion will fully come when in each Ward STP stands for the Same Thousand People!

I loved going through The Book of Mormon with you. I have a lot on my plate right now. So I'm going to take a break on this particular project so I can focus on some other pressing demands. I will not stop reading The Book of Mormon though, I hope you'll continue also. I suspect I may resume on 1 January 2011, so check back then. If you follow me at Live and Learn, I'll make an announcement there as well. In the mean time:

32

Yea,

come

unto Christ, and be

perfected

in him, and

deny

yourselves of all ungodliness; and if ye shall deny yourselves of all ungodliness, and

love

God with all your might, mind and strength, then is his grace sufficient for you, that by his grace ye may be

perfect

in Christ; and if by the grace of God ye are perfect in Christ, ye can in nowise deny the power of God.