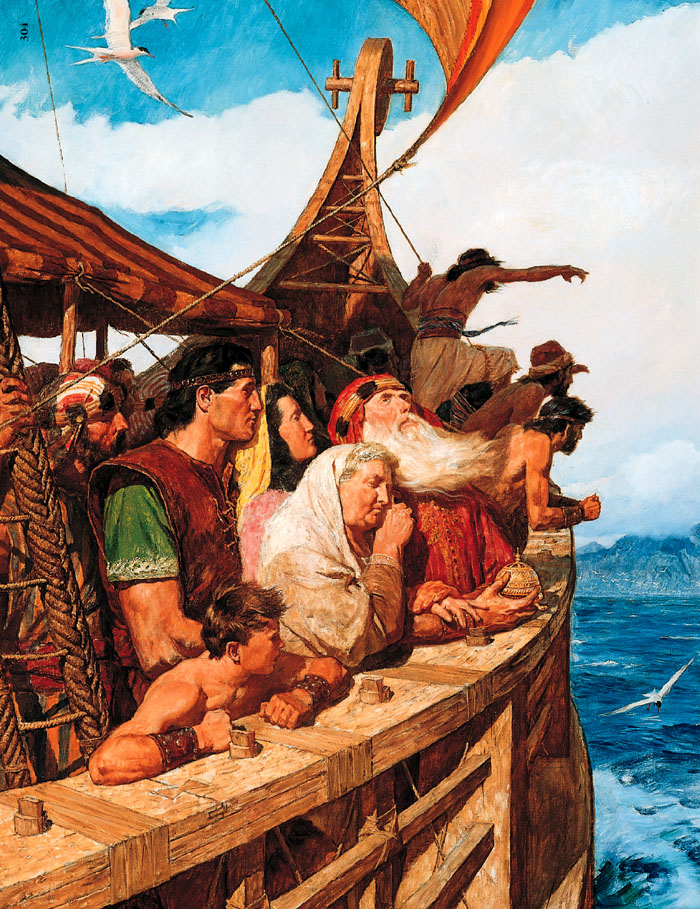 Wouldn't it be a fun archaeological discovery to find that ship! I suppose that since the Nephites and Lamanites stopped being mariners for several generations after their arrival, that the revealed technologies used in its construction are lost to us. Clearly, ship building technology was not considered by Nephi to "be of worth" to the children of men, but it would be interesting. Over the years, I've noticed that even in temporal things, God's methods far exceed man's. One example was my first visit to a Bishop's Storehouse. Another, can be found in a neat book called "The Mormon Way of Doing Business."
I was, initially, curious why Nephi attributed Lehi and Sariah's illness to Laman and Lemuel's pride and wickedness. In my mind I thought, "Anybody who'd ridden a terrible storm in a relatively small ship would be horribly sea sick." I hate to admit that the natural man in me was not at all unlike Laman and Lemuel. I'm sure they didn't take credit for the storm or their parent's illness.
I have been like this so many times in my life. During the long years of my addiction, I blamed the addiction. I would never blame the real cause; my pride, my determination to have life on my terms rather than the Lord's. In other words, I was loathe to take the blame and quick to find other explanations for my choices and their consequences. Of course that became easier and easier as Satan's flaxen chords became chains and I surrendered more and more of my freedom to choose. It would have been easy for Laman and Lemuel to convince themselves that the storm was just one of those things and that it had nothing to do with their own choices and behavior.
Even as a nation we do this all the time. We blame and deride Congress for giving us exactly what the majority of us are asking for. We despise ear tags unless they are meant to develop something locally beneficial. We cuss Wall Street, when we ourselves are often buried under a mountain of debt. The societal storms that beat upon us are brought on by our own choices, but like Laman and Lemuel we are loathe to see our own fault in bringing about the storm.
How about in our own personal relationships. If I am honest, every storm in my marriage that I was so quick to blame on her, had a larger component of error on my part. Every one! But, again like Laman and Lemuel, I was just too proud to admit it. That is until, and this too is selfish, I thought I might actually come up the loser in the deal.
Lehi and Sariah were truly sick and upon their death beds and Laman and Lemuel, not the storm, were truly the cause.
Today, Sweetie and I are on a little road trip, enjoying one another's company and so thankful the storms in our marriage are so far in the past. I'm thankful too, that even on the road, I can keep up with blogging. You may never know how much your participation in studying The Book of Mormon here, means to me. Hopefully, more of you will be willing to share your insights. Every comment lifts, teaches and inspires me.